Harpauer touts Sask. provincial budget to business crowd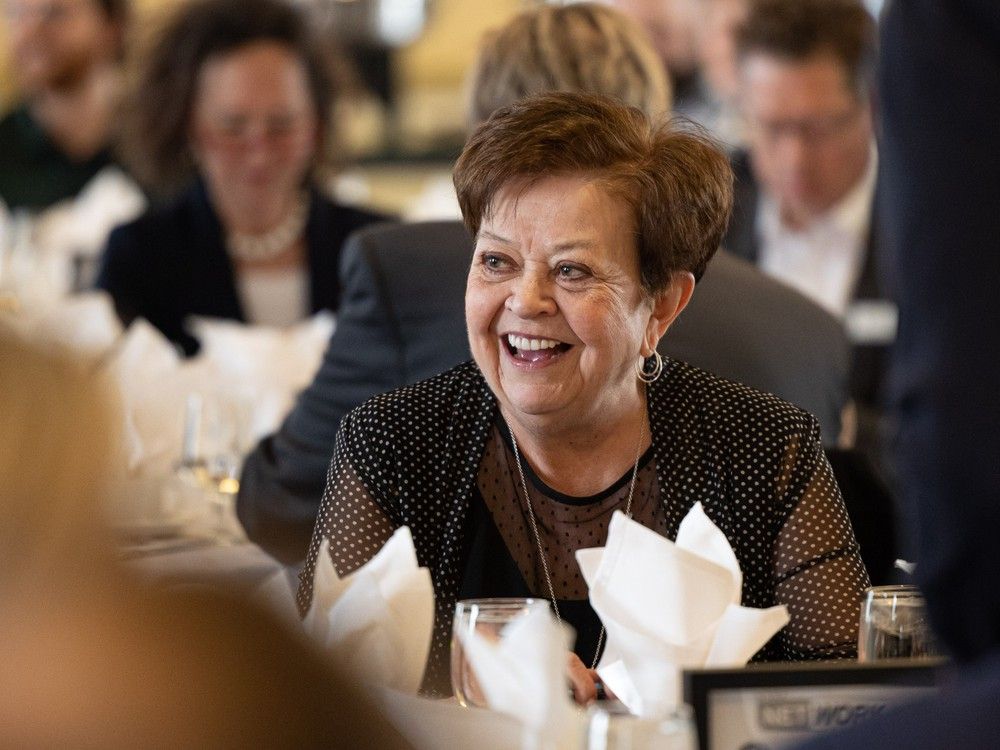 'All of the indicators in Saskatchewan are so positive, with job growth, population growth and a strong bottom line for our finances,' Harpauer said.
Article content
Saskatchewan Finance Minister Donna Harpauer presented a "very condensed" breakdown of the recently released provincial budget on Friday to conference room brimming with about 75 Saskatoon business people.
Article content
Harpauer's post-budget address at a Saskatoon Business Association Network Series luncheon stuck to the government's underlying theme of "growth that works for everyone."
Article content
The province's growing population, steady economic growth and strong employment figures make it possible for the government to invest in areas that enhance the health and future well-being of Saskatchewan people.
Last week's budget included $518 million in mental health and addiction program funding, $297.9 million in municipal revenue sharing, $337.6 million in health-care capital spending and $249.1 million for First Nations and Métis people and organizations. 
'I'm still worried about debt'
Harpauer crafted a narrative of economic health, saying one clear sign of that is population growth of 22,000 last year, the highest surge in citizens in more than a century. Saskatchewan also created roughly 20,000 full-time jobs in 2022, she said.
Article content
More than 80 new businesses were created, with total expenditures of about $32 billion — which means more revenue in government coffers, she added.<
"All of the indicators in Saskatchewan are so positive, with job growth, population growth and a strong bottom line for our finances," Harpauer said in an interview after her address. "But I'm that person who always worries about next year. And I'm still worried about debt, even though we brought debt down by a billion dollars. Our debt-to-GDP ratio is the second lowest in the country and I want to hold it there."
Measures like the province's new critical minerals strategy, geared to ramping up the exploration and mining of minerals critical to the economic and environmental sustainability of the planet, will help ensure that Saskatchewan's growth is sustainable, the finance minister said in her address.
Article content
'Aggressive' health care plan
Health care spending announced in the budget — for surgeries, recruitment and training — will ensure that "everyone has access to health care when they need it," she told the gathering.
The goal is to add 250 full-time and part-time physicians to the province's roster, and open an additional 550 seats across 18 health-care training programs, she added.
With more people gaining employment in the province, fewer citizens are in need of financial support from the government, which allowed the crafting of a record social services budget to assist the province's most vulnerable families, Harpauer said.
The province's strong economic growth means "we can have a very aggressive plan within health care to get more health-care workers. We can have a much more aggressive plan in having stronger supports for our most vulnerable in our society. And we can have strong education budgets, and that's important to our families and to society as whole."
The news seems to be flying at us faster all the time. From COVID-19 updates to politics and crime and everything in between, it can be hard to keep up. With that in mind, the Saskatoon StarPhoenix has created an Afternoon Headlines newsletter that can be delivered daily to your inbox to help make sure you are up to date with the most vital news of the day. Click here to subscribe.